Jul. 23, 2022
While there are many telecom tower options, deploying a monopole tower is often the best choice for a variety of situations. How can a monopole tower meet your telecom needs?

Monopole Tower Advantages
Monopole towers are designed with a single pole, typically between 100 and 170 feet. Because of this feature, they can often accommodate multiple carriers with multiple antennas at the same time. Their narrow tube design reduces the number of production components and materials required. Not only are monopole towers the most cost effective solution, but they are also the least intrusive. These towers are ideal for tight or limited spaces and situations where zoning is difficult.
Monopole towers require less space to accommodate the tower base, which makes installation easier and deployment faster. But quick installation isn't the only weather-related benefit of installing monopole towers: they are also an industry favorite because of their strength and structural integrity, which allows them to withstand strong winds. For those looking to invest in telecom towers that can withstand storms, this is a significant advantage.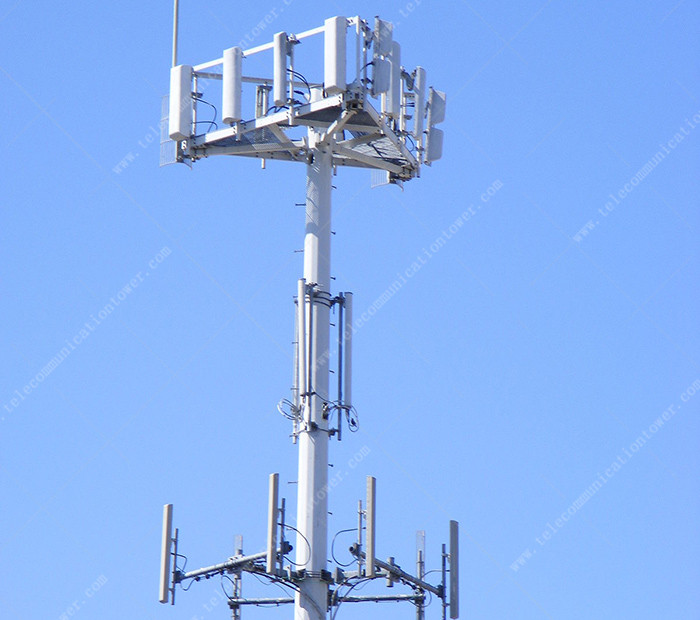 Some uses
In addition to emergency and disaster relief efforts, other common uses for fast and efficient telecom tower installations include
- Water tank restoration projects
- Large sporting, political and social events
- Temporary relocation
- Microwave links
Their benefits are not limited to direct use, but also include aesthetic and environmental considerations. While camouflaged monopole towers are attractive, they are also more costly. The most commonly used camouflage carriers are monopole towers that look like trees. Because of their smaller, less invasive nature - camouflaged or not - monopole towers are a good choice for urbanized areas. Their smaller nature also results in less environmental stress, and surface-mounted monopoles can further mitigate ground disturbance. Many of these benefits also help make monopole towers a good temporary telecommunications option.

COW
COW is "a portable mobile cell site that provides temporary network and wireless coverage to locations with minimal or impaired cellular coverage." Similar to monopole towers, the COW can be used for major sporting or music events, areas affected by natural disasters, and construction zones or permanent sites in the event of equipment failure. Professionals mount it on trucks, trailers and even vans.
Monopole tower foundations are not fixed to unstable vehicles and their overall structure is heavier. They are also often fitted with ballast or weighted for added stability. Monopole towers are less susceptible to weather conditions, especially high wind speeds. On the other hand, COWs are not designed for long-term temporary deployments or unfavorable environmental conditions, power outages, etc. In many cases, monopole towers offer greater stability and longer lasting reliability than COW.
However, safety and stability are essential regardless of whether the deployment is temporary or long term. Most tower failures are caused by radiation from excessive wind loads, and COWs are lighter, less well constructed, and not designed for long term deployments. In addition, "temporary" does not mean a limited deployment period. In some cases, "temporary" monopole towers can be used for 20 years or more, making them an economical option for the long term.
Finally
At JIAYAO, our ground communication towers are typically available in angle steel towers, steel tube towers (four or three legged), steel monopole towers, cable towers (masts), and more. Contact us today to learn more about our self-supporting antenna towers and to get our installation advice and guidance.