What Is Bionic Tree Tower?
The bionic tree, also known as the bionic tower and the bionic communication tower, belongs to the technical field of communication towers. It is to coordinate the communication tower with the surrounding natural environment, and effectively solve the problem of difficult construction in scenic spots and other places. The advantage is that it maintains all the advantages of the original single-tube tower and makes major breakthroughs and improvements in its shape. Taking natural growth of pine trees, eucalyptus, etc. as simulation samples, designing sketches and computer renderings, formulating sculptures and spraying process procedures, and simulating camouflage of single-tube towers, making people not aware of the existence of towers and integrating them into In the surrounding natural environment.
There are many kinds of bionic tree tower, which are mainly divided into imitation pears such as Yingkesong, Imitation Coconut and Imitation Palm Tree, which are installed in some scenic areas.
advantage:
1. The structure is exquisite and realistic, and the appearance is beautiful and elegant. Because the bionic tree tower is modeled on actual plants, the shape resembles a real imitation, because it is finely crafted and installed in landscapes, parks, plazas and trees similar to its species, close to nature and blended with nature, and a new and unique large line frame. For the traditional platform hidden in the branches and leaves will not destroy the overall beauty of the tower body, the bionic tree tower humanized shape design, with a vibrant atmosphere of the times.
2. Strong structural stability and good technical performance. The tower base adopts the independent reinforced concrete structure, which can effectively avoid the uneven subsidence of the foundation; the feeder fixing splint is set inside the tower body, and the feeder line is protected from the wind and rain, which effectively solves the feeder damage factor and thus prolongs its Service life; each section of the tower is finished with a finished inner flange connection to ensure concentricity and verticality, avoiding the safety hazards of other connection methods.
3. The floor space is small and the economic effect is remarkable. The tower body adopts a conical single-tube structure, and the floor space is only l-2 meters square, the foundation is 4-6 meters square, and there is no need to build a base station wall, thereby reducing the user's land acquisition area and saving costs (especially in towns).
4, long service life, long-lasting effect due to the relatively small external damage of the tower body, and the structure is reasonable, the materials used are excellent, so the iron tower has a longer service life; the surface is hot-dip galvanized, the corrosion resistance is good, and the surface is equipped with The simulated bark, which simulates the bark and simulates the foliage, is a high-grade composite material that is waterproof, fireproof and anti-corrosive. It can ensure its appearance does not peel off for a long time.
Highlights of JIAYAO self-supporting tower
● Leading design concept.
● Versatility, modular design, flexible configuration of accessories.
● Tower group design, modification and adjustment.
● The tower section is universal, and the same tower section taken from the same mother tower is completely common in different tower types.
● Lower costs.
● Self-supporting tower light weight.
● Self-supporting tower installation cost is good.
● Self-supporting tower installation time is short.
● High reliability.
● The design and processing of JIAYAO's self-supporting tower products are in line with ISO 9001:2000 quality management system.
● 50 years design life.
What Is The Details of JIAYAO Bionic Tree Tower?
Design standard

TIA/EIA-222-G/F

Welding standard

AWS D1.1

Galvanization standard

ASTM A123

Design Wind Speed

Up to 200 km/h

Angular steel

Material quality

Mild Steel:Q235B/ASTM A36/S235JR

High Steel:Q345B/ASTM A572/S355JR

Allowable deflection

0.5 ~1.0 degree

Bolt grade

Gr 4.8, Gr 6.8, Gr 8.8

Marking

Hydraulic Press Stamping
What is the height of JIAYAO Bionic Tree Tower we can provide?

5m up to 50m is the tower height we can provide.
How to install the antenna on JIAYAO Bionic Tree Tower?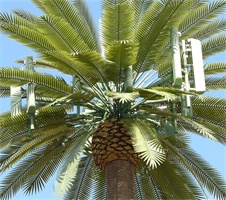 What antenna can be mounted on JIAYAO Bionic Tree Tower?
| | |
| --- | --- |
| Type of antenna | Description |
| Panel antenna (sector antenna) | GSM antenna for 5G:2.52m×0.265m×0.13m, 1.31m×0.32m×0.11m |
| Parabolic reflector(dish antenna) | Microwave antenna Diameter:0.6m, 0.9, 1.2m, 1.6m, 1.8m, 2.4m |
| RRU | Radio Remote Unit:0.45m×0.32m×0.25m |
| WIFI antenna | Grid or parabolic directional antenna / yagi / omnidirectional antennas |
| Other Antenna | VHF/UHF Dual-band Antenna FM antenna |
The deailed pictures of JIAYAO Bionic Tree Tower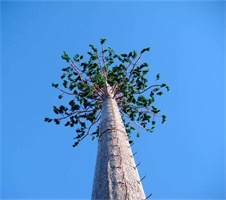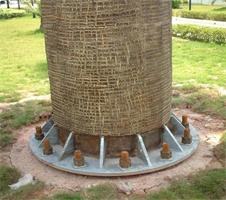 Why choose us?

10 years
Manufacturing & exporting experience.
Exported to more than 55 countries.
24-hour service throughout the year.

We are committed to providing customers with the most optimized solutions and the competitive prices.
OEM/ODM orders are welcome.We are trying to meet all your needs.


We normally send the towers by sea.
For small orders,the tower can be delivered
Within 15 days.
Material from famous steel mill in China.



How to control the quality by JIAYAO
In order to ensure product quality, we JIAYAO use CNC production equipment and use modern manufacturing technologies to manufacture communication towers, and the multi-item templates, bending dies, jigs and fixtures can be reused in case of repeat orders. We also strive to perfectly complete each small quantity order and proto item production.
The first piece of each different type of template is duly inspected by our specialized Quality Inspectors, thus ensuring accurate and quality manufacturing. The quality of our self supporting communication tower is controlled through sample check during process, and then 100% quality inspection before leaving factory.
Thus, we are confident that all our radio towers are qualified, and users can feel secure in purchasing.