Our company is a professional steel tower manufacturer with ISO certificates based in China.
Supported by the team of professional engineers,technicians,skill workers,we are dedicated to providing our global customers with high quality telecom towers.
The detailed information is specified in the following table.We sincerely look forward to cooperating with you.
1.key Details:
Place of Origin: Hebei, China (Mainland) ; Brand Name: Jaoyao or OEM ; Model Number: Telecom Tower.
Surface treatment: Hot Dip Galvanizied or painted.
2.Packaging & Delivery:
Packaging Details: Telecom tower will be bundled by Galvanized strapping as per client's requirements.
Deliver:Shipped in 20 days after payment from Tianjin port.
Tower members: One steel tower is separated into several bundles.
Bolts: Packing material is robust nylon bag or steel drum.
3. Technical Data
Design
1. Design Code
TIA/EIA-222-G/F
Structure Steel
2. Grade
Mild Steel
High Tensile Steel
GB/T 700:Q235B, Q235C,Q235D
GB/T1591:Q345B, Q345C,Q3455D
ASTM A36
ASTM A572 Gr50
EN10025: S235JR, S235J0,S235J2
EN10025: S355JR, S355J0,S355J2
3. Design Wind Speed
Up to 250 km/h
4. Allowable deflection
0.5 ~1.0 degree @ operational speed
5. Tension strength (Mpa)
360~510
470~630
6. Yield strength (t≤16mm) (Mpa)
355
235
7. Elongation (%)
20
24
8. Impact strength KV (J)
27(20°C)---Q235B(S235JR)
27(20°C)---Q345B(S355JR)
27(0°C)---Q235C(S235J0)
27(0°C)---Q345C(S355J0)
27(-20°C)---Q235D(S235J2)
27(-20°C)---Q345D(S355J2)
Bolts & Nuts
9. Grade
Grade 4.8, 6.8, 8.8
10. Standards for mechanical properties
10.1 Bolts
ISO 898-1
10.2 Nuts
ISO 898-2
10.3 Washers
ISO 6507-1
11. Standards for Dimensions
11.1 Bolts
DIN7990, DIN931, DIN933
11.2 Nuts
ISO4032, ISO4034
11.3 Washers
DIN7989, DIN127B, ISO7091
Welding
12. Method
CO2 Shielded Arc Welding & Submerged Arc Welding(SAW)
13. Standard
AWS D1.1
Marking
14. Method of marking of the members
Hydraulic Press Stamping
Galvanizing
15. Galvanization standard of steel sections
ISO 1461 or ASTM A123
16. Galvanization standard of bolts and nuts
ISO 1461 or ASTM A153
Test
17. Factory test
Tensile test,Elements analysis, Sharpy test(impact test), Cold Bending,
Preece test,Hammer test
Capacity
18. Maximum Production Capacity
50,000 TON per annum
What is the lattcie structure of 4 legged angular steel tower?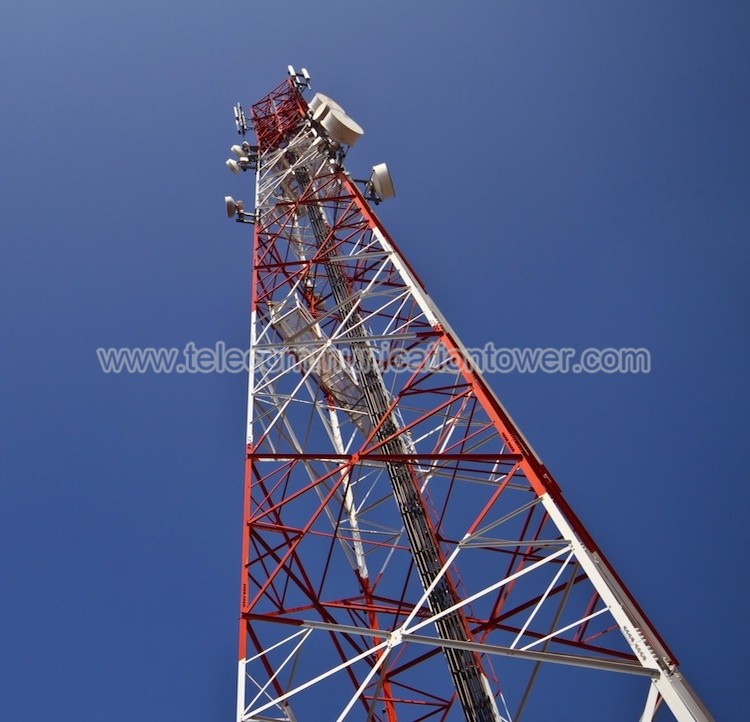 How to mount the MW dish on the 4 legged angular steel tower?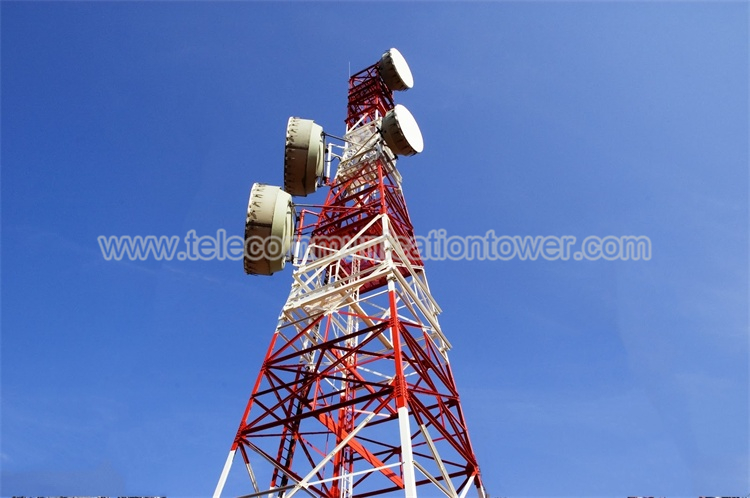 What is the main structure of 4 legged angular steel tower?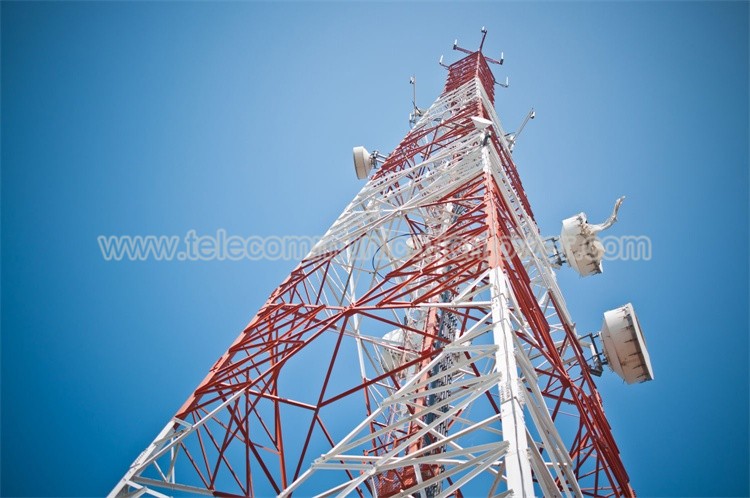 Inspect 4 legged angular steel tower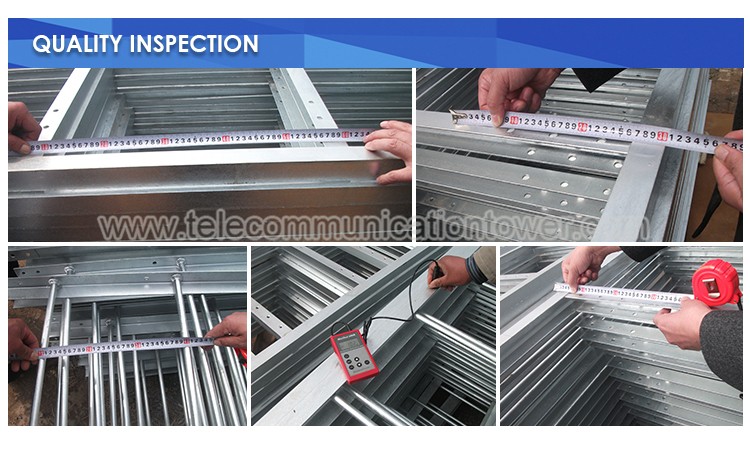 Production Flow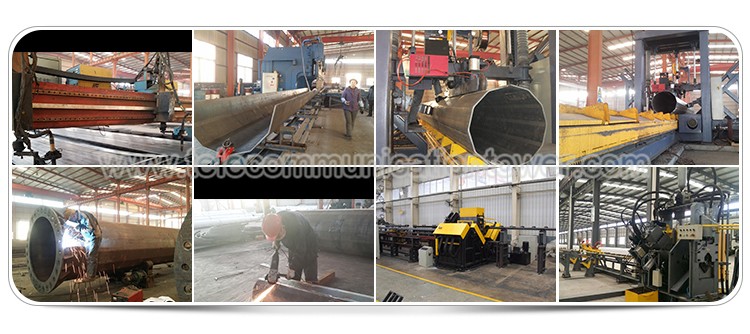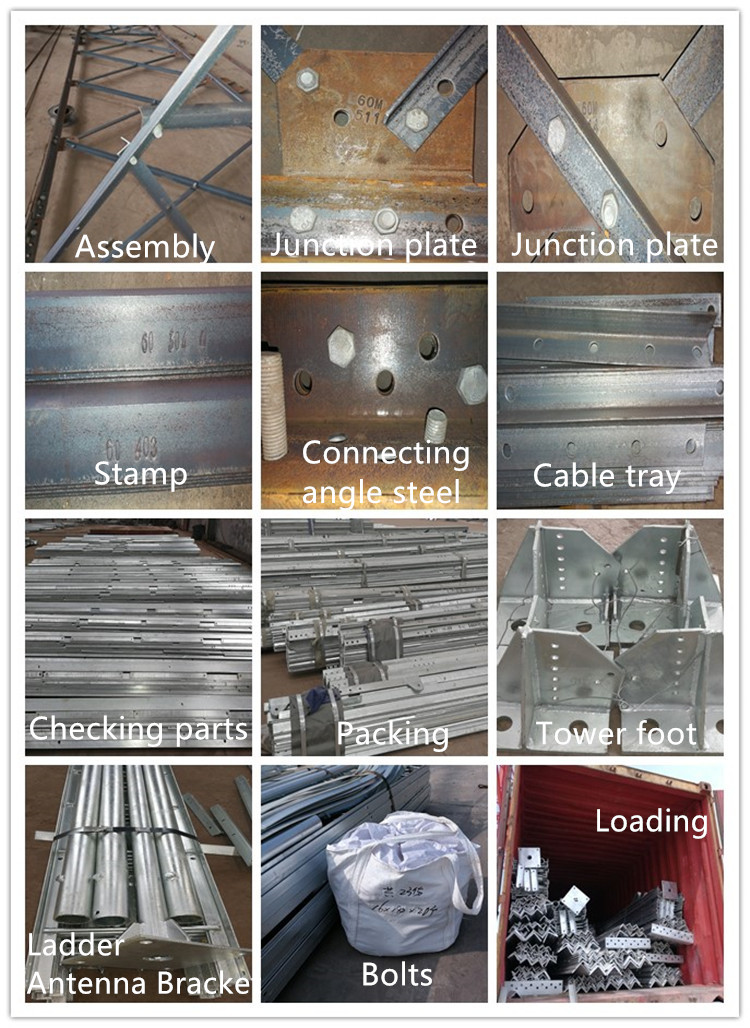 Our Services